Audio Stuff
---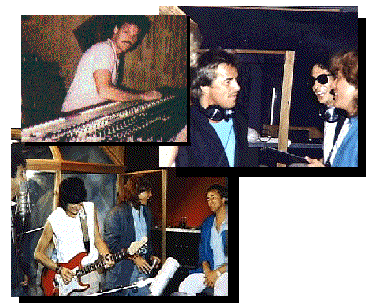 Frank Prinzel at the MCI in Criteria's Studio "A"
Pictured L to R, Mark Leonard bass, Ron Wood guitar, Chas Sandford producer guitarist and D.J.
With a General Class FCC License and live audio engineering experience my good friend Andy, Chief Engineer at Criteria Studios in Miami, offered me a job as his assistant. I jumped at the offer.
It was one of the greatest experiences in this mortal coil we call life. I met some of the greatest people during that time.
These pictures are from Don Johnson's session for the "Heartbeat" album. It featured some real heavy weights.
Chas Sandford ("Missing You" John Wait & "Talk To Me" Stevie Nicks) was the Producer with Gary McGachan as engineer and Dave Axelbaum as second engineer.
We had lot a laughs and late nights.
Name Droppage Goes Here:
Playing on and hanging around for these sessions were: Charles Judge, Dickey Betts, Bill Champlin, Michael Des Barres, Willie Nelson, Earl Gardner, Lenny Pickett, Jamie Skylar, Ron Wood, Dweezil Zappa, Whoopie Goldberg, Bonnie Raitt and one of my favorites Stevie Ray Vaughan
---
VIDEO STUFF
---
CRITICAL MASS
Check out Critical Mass, a rock band I was privileged to be a part of.
---
I'll be expanding this area as time permits, check back.
HOME